Our products are made from vinyl supplied by these companies:

Instructions:

Detailed
instruction
how to apply cutting decals.

Detailed
instruction
how to apply window rear graphics decals.
Our color chart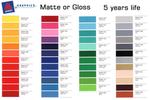 Extensive colour range, both in gloss and matte finishes
Good initial tack and high adhesion on most common substrates
Durability up to 5 years
Facefilm: 70 micron
Application temperature Minimum: +10° C (50F)
Service temperature -40° to +100° C (-40F to 212F)
Humidity resistance 120 hours exposure:
No effect
Corrosion resistance 120 hours exposure:
No contribution to corrosion
Water resistance 120 hours immersion:
No effect
Chemical resistance Mild acids and Mild alkalis:
No effect
Solvent resistance Applied to aluminium, exposed to oils, greases, aliphatic solvents, motor oils, heptane, kerosene and JP-4 fuel.
No effect

Wet or Dry
- Please read the instructions before the application decals. https://supdec.com/instruction
We allow using only the Dry method.
Will this work on my model?
- If you do not sure fit some decal to your vehicle or not just please indicate your model in the order details section at checkout.
What is the difference between 800 and 500?
The main difference is thickness and service life.
Avery 500 main specs:
Application temperature Minimum: +10° C
Service temperature -40° to +100° C
Facefilm: 70 micron, monomerically plasticised vinyl
Durability Vertical exposure:
Black + White - 5 years
All colors - 4 years
Avery 800 Premium Cast main specs:
Facefilm: 50 microns Permanent Acrylic Based
Durability: B/W - 10 years, Colours - 8 years, Metallic - 5 years
Application temperature (Minimum: °C) +10
Service temperature (°C to +°C) -40 to +110